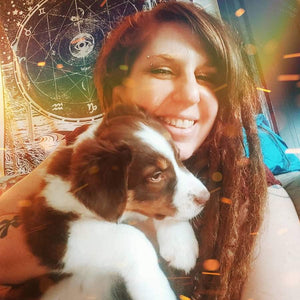 Artist Feature: Genea Crivello of Third Eye Gypsys
Over the course of the last few months, I've had the pleasure of collaborating with lampwork glass artist Genea Crivello of Third Eye Gypsys. She created lovely glass elements for me to use with some of my designs. Merging her beautiful glass work with my metal weaving style has been a lot of fun and has provided me with much needed inspiration. In addition, her kindness is a breath of fresh air in a world of chaos.
The beads I created as part of this collaboration will become available here on June 25th at 7:00p.m. Eastern time.
It has long been my goal to not just be part of an art community, but to be an advocate for other artists and their journeys as well. In that regard, I would like to share a little more about Genea so you can get to know her as an artist and give her a follow. 
Who is Genea Crivello?
Genea is a lampwork glass artist that creates flame worked glass dread beads and festival jewelry.

When she's not working on her art, she enjoys traveling, electronic music, and delicious food. She spends time playing with her adorable puppy, Jiya. She also enjoys hooping, being out in nature, spending time with her partner and friends, and enjoys attending music festivals and regional burns.

About Genea's Art
After making her own jewelry for years, she thought it would be cool to make her own beads after becoming inspired by a class her boss was taking at the time. 18 years later, and she is still creating glass beads.
Though she took one professional class, she is mostly self taught and lends a lot of credit to a book called "Passing the Flame" by Corina Tettinger. It is considered the "glass bible" and contains information about all of the skills one needs to get started making beads and creating lots of unique styles. Though, she says that spending time with the glass is the greatest teacher, and that she learns so much every time she sits down to create. 
"Often when I create, I will get other ideas for little spins on the design on which I'm working... or, a completely different exciting design." - Genea
Inspiration and Advice
As artists, we all have a list of other artists we admire and take inspiration from. Some glass artists that Genea has admired throughout her glass journey are: Corina Tettinger, Astrid Riedel, Anouk Jasperse, Sarah Moran, Karen Woodward, and Joy Munshower.
I also asked Genea if there was any advice she would like to give other artists that are perhaps thinking about learning how to make lampwork glass. Here is what she had to say:
"Advice I'd give to artists that are new to glass is practice, practice, practice. I'm an artist and naturally art skills just came to me easily. However, glass was one of the hardest mediums I had ever done. I was so pissed I didn't pick it right up and make amazing things. It takes months of making glass consistently to be able to put it down and pick up at the same skill level and move forward. Like I said before, spending time and just melting glass is the greatest teacher."
As artists, we all have different journeys, but I find it interesting to ask my peers what advice they might have for other artists that are struggling to get established in their trade. I asked Genea this, and she had some great insight, as I knew she would:
"Getting established is one of the hardest things to do unless you are a marketing, social media guru, pro photographer, or business person. I think most of us artists are great at our art, but have to wear so many hats in business as well, which is not our strongest skillsets. I'm still working on figuring out the 'magic formula' to success. I believe the most important thing is creating what you love and being excited about sharing it. If you love what you create and are passionate about it, people will love it along with you and share that excitement. Be authentic and bring your own special magic to everything you do. Even if you told someone the exact steps you use to create your art, it will still be different. Only you have your soul and energy. No one else has that to offer. The only person you need to compete with is yourself. this will help you keep expanding your art and pushing your creative limits."
Links
Here is a comprehensive list of all Genea's social medias and places where you can find her work.
Social Medias

Art for Sale
Third Eye Gypsy Dread Beads, Dread Headbands, and Festival Jewelry
Third Eye Gypsy Lampwork Beads
By Morgin Riley. Index, Washington. Third Eye Gypsy Dread Beads
1400 Royal Palm Sq. Blvd. Unit 104 Ft. Myers, FL
Third Eye Gypsy Dread Beads
150 Cecil B Moore Ave.
Philadelphia, PA 19122
Third Eye Gypsy Dread Beads & Headbands
Portland, OR
Third Eye Gypsy Dread Beads
2603 E. Allegheny Ave.
1st Floor
Philadelphia, PA 19134
Third Eye Gypsy Dread Beads
846 Massachusetts
St. Lawrence, KS 66044
Third Eye Gypsy Dread Beads & Festival Jewelry
 
Some Examples of Genea's Work


---